Club Projects
The Henrico North Rotary Foundation:
This 501 (C) 3 foundation has been established to provide funds for a variety of charitable projects. Gifts are tax deductible.
College Scholarships:
Henrico North Rotary funds several full scholarships annually to J. Sargeant Reynolds Community College. An annual Cherry Tee Golf Scramble is held during the month of September to help fund these scholarships. Henrico North Rotary Club has donated over $100,000.00 in scholarship funds to help less fortunate students attend this fine college, which provids world-class programs such as libertal arts, nursing, teacher education, culinary arts, and automotive technology. Graduates with an associate's degree earn about $8,000 more a year than individuals without a two-year degree, and $250,000 in career earnings during a lifetime.
The annual Cherry Tee Golf Tournament of 2018 was a great success - we should net about $10-11,000 for our scholarsip fund. Thank you all for helping out.
We are now geering up for the 7th Annual Cherry Tee Golf Tournament which will be benefitting the Carol Adams Foundation. Please come out and join us for this incredibly worthy cause.
The ALS Walk:
Amyotrophic Lateral Sclerosis (often called Lou Gehrig's disease or simply ALS) is a progressive disease that as yet has no cure. The club supports the ALS walk by cooking thousands of hot dogs each year for the many volunteers that walk in the annual ALS walk for the cure. We do this in memory of one of our members Edwin Bell who lost his battle with this terrible disease.
Ringing the Bell for the Salvation Army: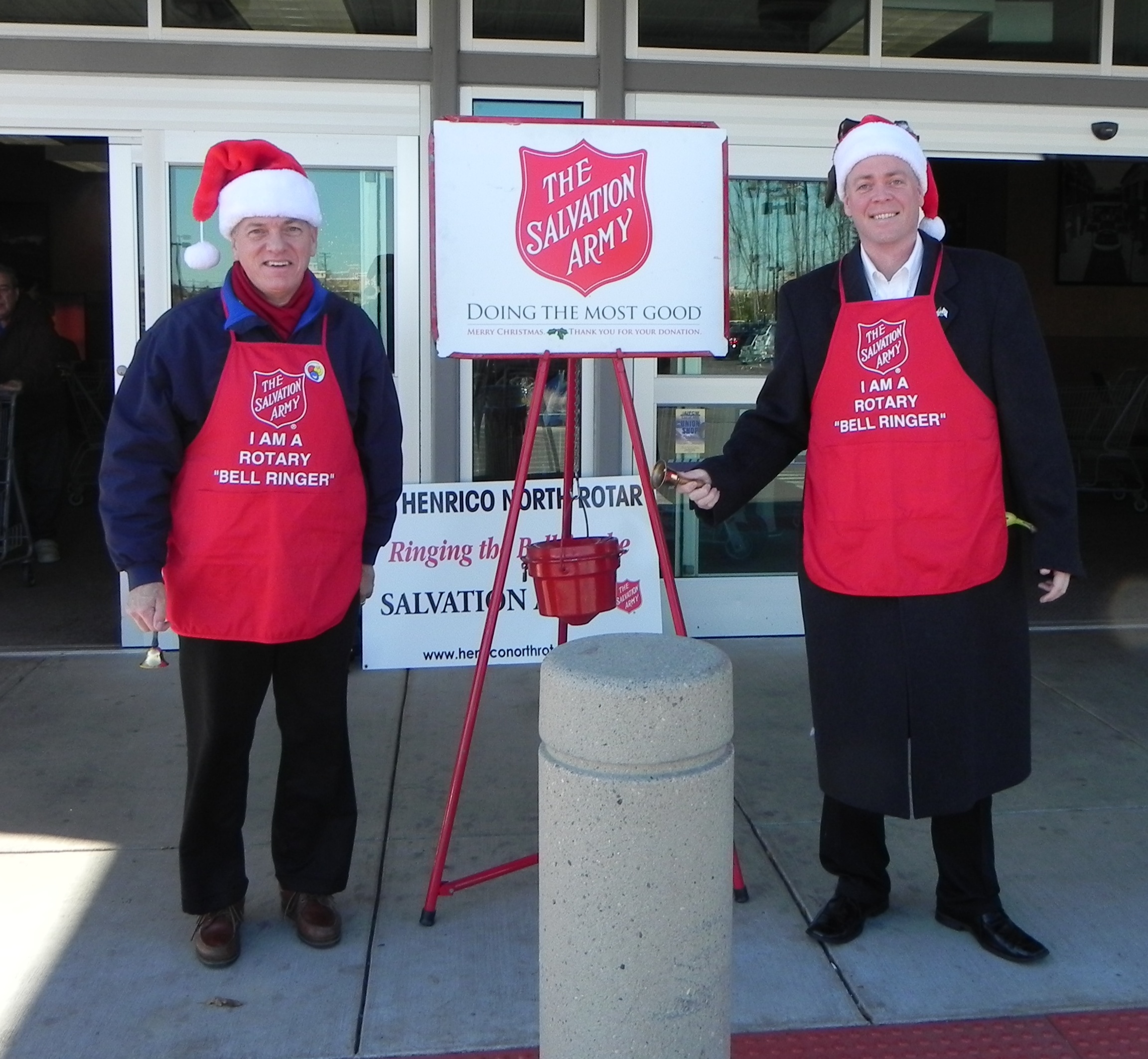 The Henrico North Rotary Club each year "rings the bell" for the Salavation Army Christmas Red Kettle fund at the Kroger Supermarket on Staples Mill Road. We have been awarded the "highest fundraiser" for this event for two years.
Service Above Self Essay Contest:
L. Douglas Wilder Middle School
Henrico North Rotary recently provided a Welcome Back luncheon to faculty and staff of Wilder Middle School. Each of the 115 staff members were treated to a Chick-Fil-A sandwich, chips, and drink on their first day back to classrooms. Their responses included "What a nice surprise from the Rotary Club"; "They make us feel loved and supported"; "Staff spirits were raised on our first day back in the building"; and "They (The Henrico North Rotary Club) are the Bomb."
Wilder Middle School and Henrico North Rotary have an established relationship spanning several years. Club members have been a welcoming committee to students on the first day of school, chaperoned field trips, donated to the school's clothing and food pantry, and provided Thanksgiving holiday meal kits. The club has also sponsored an annual essay contest, with students focusing their essay on interpreting the Four Way Test or sharing their views on being a community servant and leader.
Henrico North members recognize the enormous stress and pressure the pandemic has placed on education professionals. It was wonderful providing such dedicated, caring individuals with this small recognition and token of our deep appreciation.